PRIVADO
---
---
DE
(…) Mit der Polaroid-Serie privado (2018) untersucht Elburn bereits nicht nur die Materialität des Motivs,sondern nimmt den eigenen Werkstoff zum Thema. Sie demontiert die Polaroids im Bildentwicklungsprozessund legt so die chemischen Schichten des Sofortbildes offen. Gleichzeitig zur Freilegung und damit Betonung des Materials tritt das Motiv zurück – durch die "unsachgemäße" Handhabung, das Demontieren und Freilegen von Schichten wird die intendierte Idee des abbildenden Sofortbildes ignoriert und das Motiv bisweilen undeutlich oder gar abstrakt.
privado versammelt 28 Aufnahmen von (leerstehenden) Privathäusern, Details von Hütten, einem verlassenen Schwimmbad, einer Kapelle oder verschlossenen Toren. Allesamt scheinen motivisch, aber auch im Material den betrachtenden Blick abzublocken. In der Collage der Polaroids entsteht eine nebulöse Erzählung, bei der die Details durch die Demontage manchmal verstärkt und manchmal nur noch schemenhaft zu erahnen sind.

---
28 schwarz-weiss Polaroids demontiert und collagiert, im Rahmen 100x70cm

Ausstellungsansicht Schichten.Stränge.Stofflichkeiten, Künstlerhaus Dortmund und Detailansichten

Einzelbilder/Details von privado, 2018
---
Text: Ines Rüttinger: Schichten – Layers, 2021
---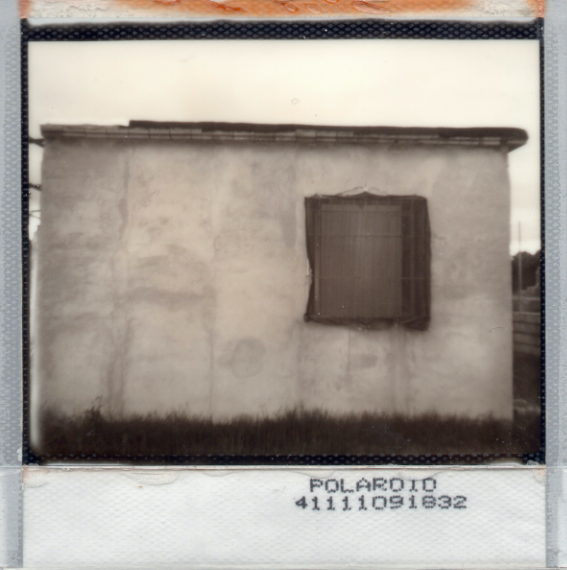 ---
EN
(…) With the Polaroid series privado (2018) Elburn not only examines the materiality of the motif, she also addresses the theme of her own material. Dismantling the Polaroids in a process of image development, she exposed the chemical layers of the instantaneous image. At the same time as the material was being exposed and thus underscored, the motif retreated. Due to the "inappropriate" handling, the dismantling and exposure of the layers, the idea that the instantaneous image might depict something is ignored and the motif sometimes becomes unclear or even abstract.
privado brings together 28 photographs of (empty) private houses, details of huts, an abandoned swimming pool, a chapel or locked gates. In terms both of their motif and the material, the photographs all seem to block the observing gaze. In the collage of Polaroids, a nebulous tale is told in which the details are sometimes heightened by the dismantling and sometimes only vaguely ascertainable.

---
28 back-and-white polaroid, dismantled and collaged, framed 100x70cm

exhibition view Schichten.Stränge.Stofflichkeiten, Künstlerhaus Dortmund and details

Single images/details of privado, 2018
---
Text: Ines Rüttinger: Schichten—Layers, 2021
---